Kinjo Pier
Kinjo Pier is being developed as an integrated area that will attract many people
Kinjo Pier also functions as an information administration center for the consolidation of vessel information. Kinjo Pier is currently being developed into a public communication exchange area. On the basis of the Concept "Central Exchange Area for Monozukuri Culture" being planned by Nagoya City, a hub for interaction between people is now being designed under the theme of showing and passing on industrial technology. The concept includes things such as opening a railway museum. The pier is adding new pages in its history as a popular site among visitors.
SCMAGLEV※ and Railway Park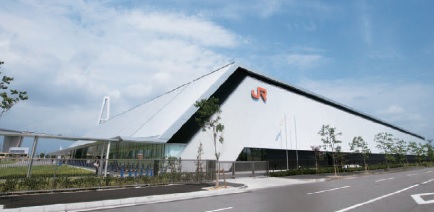 This facility introduces the progress in high-speed railway through rolling stock displays, which include the superconducting maglev as well as historic railway rolling stock. (※SCMAGLEV : Superconducting Magnetically Levitated Vehicle)

Nagoya International Exhibition Hall (Portmesse Nagoya)
This is one of the nation's leading convention complexes, consisting of the exhibition halls, an event hall and an exchange center.
Aonami Line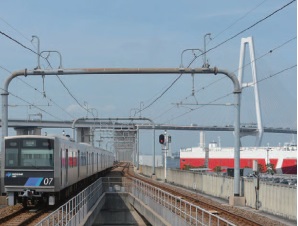 This passenger line, opened in October 2004, connects Kinjo-futo Station and Nagoya Station, 15.2 km away, in 24 minutes.
Futsal Arena (TEVA OCEAN ARENA)
This Japan's first internationally-standardized futsal arena is equipped with 2,500 seats in the main arena.
Theme Park (LEGOLAND(R) Japan)
"LEGOLAND(R) Japan" is the first such outdoor theme park for kids opened in Japan.
On the adjoining to the land on the east is also the "Maker's Pier," a commercial complex with the theme of "the joy of creating and making events."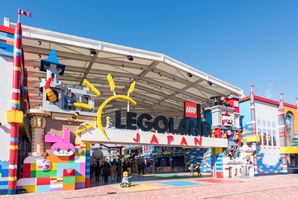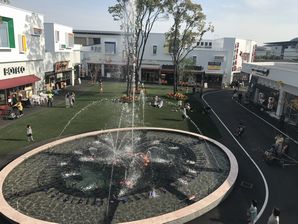 Guesthouse Wedding (Wedding Island Angerobe)
This facility is modeled after Mediterranean and Aegean resorts, and produces parties and weddings with a homelike atmosphere in a chartered guesthouse.
Map