Topics 2021
March
Virtual conference on sustainability and efficiency held with the Port of Los Angeles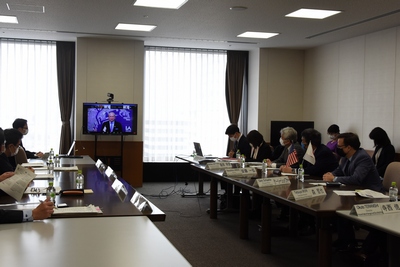 A year ago, the Nagoya Port Authority and the Port of Los Angeles signed an MOU to cooperate, discuss and share information on environmental sustainability and operational efficiency. On March 9, the two ports held a virtual conference marking the first anniversary of the cooperative agreement, in which they exchanged and shared information about the projects each ports is carrying out.
The conference began with opening addresses from executives of the two ports. After that, the environmental plans and actions by the two port authorities and projects and initiatives undertaken by private companies were introduced.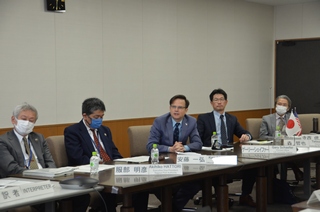 January
The "Carbon-Neutral Port Committee of Nagoya Port" holds first meeting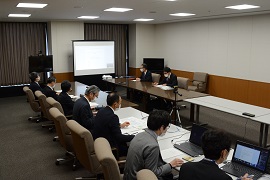 Ports in Japan handle 99.6 percent of total import and export cargos, and industries that account for about 60 percent of Japan's carbon dioxide emissions are located chiefly around port areas.
Therefore, the Ministry of Land, Infrastructure, Transport and Tourism (MLIT) is planning to convert Japanese ports into "Carbon-Neutral Ports" (CNP) to assist Japanese society in becoming carbon-free.
The Chubu Regional Bureau of MLIT and the Nagoya Port Authority established a CNP committee to examine the needs for next generation energy and its usage, and to study the scale and disposition of port facilities. The first meeting of the committee was held on January 25th with private companies and local governments.
A New Water Bus, Super Comet, Put Into Service for Cruise Nagoya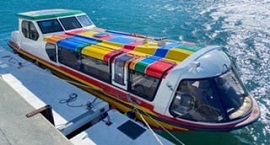 Since January 23rd, a brand-new water bus, Super Comet, has been in service for Cruise Nagoya, which connects downtown Nagoya to the Port on a regular schedule.
The vessel can carry 45 people, including wheelchair users, and during the cruise passengers can feel the air and enjoy the outside scenery from the open deck.
Ride the newly-built water bus and enjoy scenes of Nagoya from the water.